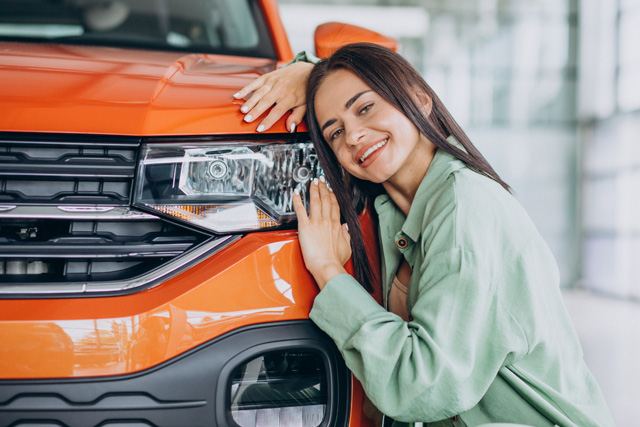 Officially banks do not demand the omnipresent lowest credit score essential for a car loan. But in reality, your rates can greatly influence your chance to get authorized for a loan and the duration of loan terms.
According to the Q2 2021 Experian State of the Automotive Finance Market report, the average credit score for people who want to get a new car is 718, while when we speak about used cars, it is 657. What credit score is needed to buy a car in real life?
Lower credit scores may become a reason for fewer possible loan offers as well as higher car loan interest rates. Low credit scores do not mean you should stay aside from credits if your rates aren't where you would prefer them to be.
Keep reading to get to know how your credit rating affects your probabilities of taking a car loan, modes you can boost your approval chances, and probably get better loan offers.
What Credit Score Do Car Dealers Use?
Customers don't have only one credit score, but some of them. The rating standards use the same provided data from your credit reports but consider specific elements differently. Car dealers use two main scoring models:
FICO. The popular and most widespread scoring group. FICO auto scores range from 300 to 850.
VantageScore. The latest opponent to FICO. However, previous versions of the VantageScore compared from 501 to 990, the freshest VantageScore variant goes from 300 to 850, the same as the FICO rating.
How Do Car Dealers Check Your Credit?
These main scoring methods can also offer more specialized scores for special purposes. For instance, FICO offers the FICO Auto Score, an industry-special credit rank created for auto sellers. The FICO Auto Score offers a distinctive calculating method from other FICO ranks, with credit applications having a more significant impact and separated late charges having a smaller one. There are many versions of this FICO Auto Score method.
Most car lenders trust a FICO Auto Score, but not all of them. If you hesitate about the lender choice and are curious about your rates, ask your MaxLoan lender which ranks they compare before being ready for a credit check.
How Much Credit History Is Needed to Buy a Car?
Car loan interest rates vary depending on your credit rank, so understanding what to wait from a lender in general, may help you plan your budget for the car. A minimum credit score for a car loan of 661 or above can bring customers a new-car loan with a 3.64% annual percentage rate or better, or a used-car loan of about 5.35%.
| | | |
| --- | --- | --- |
| Credit Score | Average APR, new car | Average APR, used car |
| Deep subprime: 300-500 | 12.99% | 19.85% |
| Subprime: 501-600 | 9.92% | 15.91% |
| Nonprime: 601-660 | 6.32%s | 9.77% |
| Prime: 661-780 | 3.64% | 5.35% |
| Superprime: 781-850 | 2.58% | 3.68% |
According to the data from Experian, customers with an auto credit score in the low 700s might consider rates on accustomed cars around 5.35%, in comparison with 17.11% or more for a customer with a score in the mid-500s. Applying a car loan calculator, you may see the difference and change the credit score range to buy a car.
For instance, on a $20,000, 5-year used-car loan with no down fee will demand a monthly payment of about $382 for the customer with a better credit score compared to $498 for the customer with a worse credit score. The customer with more acceptable credit would pay about $2,915 in interest in general, while the customer with lower credit would have to pay about $9,894. Moreover, a bad credit score can cause higher car insurance charges in some states.
The dissimilarities aren't that strict for new-car loans. Customers with auto credit scores in the low 700s can get an average rate of 3.64%, corresponding to 11.03% for customers with a credit score in the mid-500s.
How to Increase Chances for Approval?
How to purchase a car with bad credit? If you have a credit rank below 700 and are thinking about its approval, try to focus on the positives in your economic situation. You can keep in mind that customers with more financial problems in their credit history are approved for car loans every day. If you have a bad credit history, there are some favorable financial strategies to emphasize during the visit to a financial company.
Bring a bigger down payment to the table
Offer a lender a bigger down payment. It can balance a poor credit score by reducing your monthly fees. It can even assist you in receiving a lower car loan interest rate. A big down payment can make you look less risky for some auto distributors, no matter what credit score you have.
Provide papers showing financial stability
If you have a low credit score, future lenders are less likely to work with you as you have no stability in other areas of your financial life. Providing documents like your latest pay stubs, address proof can show dealerships how long you have your current address and worked at your employer could assist you to look more trustworthy. Some lenders may consider non-official ways that you can provide if you earn enough to cover the car loan bills.
Consider bringing your own financing
While lenders offer funds, going to your credit union or local bank is also a great idea. You may even compare car loan rates online. Make a comparison of quotes from the possible main dealerships and, once you've made a choice, you can be preapproved to make the lending run fine.
If you finally get a loan with a higher rate than you planned, monitor your scores. You can refinance your auto loan at a better rate after you've completed on-time payments for six to 12 months.
How to Build Credit to Buy a Car?
If you have not got car title loan rates that are suitable for you, it might be time to postpone your car purchase and try to build your credit score manually. How to make an ideal credit score to buy a car?
Pay your bills on time. A payment that you make 30 days past due can spoil your credit score, so try to pay at least the minimum amount without delay.
Keep your credit card balances low in comparison to your credit limits. How much of your card limits you're using is known as your credit employment, and it influences your score very much.
Avoid getting other credits for a six months after applying for a car loan.
Keep your credit card accounts open only if you have a clear reason to close them. Closing credit cards lowers your general credit limit, and it may hurt your credit score to buy a car.
What's Next?
When you plan to get a car loan, building the best credit score to buy a car is a great idea to start from. Before applying for a loan, we recommend you check your credit score in advance online. Have you ever tried getting a car loan? What is your score, and how much time did it take to you?